Today, UK-born and now New York-based artist Fenne Lily announces Big Picture, her new album out April 14th on Dead Oceans, and presents its lead single/video, "Lights Light Up." She also announces a month-plus North American co-headline tour with Christian Lee Hutson, as well as a UK and EU run, on sale this Friday, January 20th at 10am local time. A gorgeous and gripping portrait of Fenne's last two years, Big Picture was pieced together in an effort to self-soothe and offers  a brilliant catharsis. Tracked live in co-producer Brad Cook's North Carolina studio, the album delineates the phases of love and becomes a map of comfort vs. claustrophobia. "Writing this album was my attempt at bringing some kind of order to the disaster that was 2020," Fenne states. "By documenting the most vulnerable parts of that time, I felt like I reclaimed some kind of autonomy."
This collision of repose and harsh reality is laid bare in Big Picture's lead single "Lights Light Up," a prophetic and insightful account of love at its temporary best. Written partially as a conversation, it tracks the tender details of a burgeoning relationship and recognizes the transitory nature of any shared thing; the bittersweet truth that you can only walk hand in hand with someone as long as you're going in the same direction. With delicately interwoven guitar lines, propulsive rhythm and a chorus that offers the feeling of a voicemail left by someone from your past, it feels at once deeply personal and universal.
"and you said so do you ever wanna leave here / and I said well that depends on the day
and you said oh do you even wanna be here / and I said well that depends on the way"
"I'd never really written about love in the present tense before this, but even though I was still in love and not thinking about the end, there was something else going on subconsciously that led to a song about moving on before the moving on had begun," comments Fenne. "When it came time to record, the band and I had been playing it live for a while and it'd become something joyful and positive, but when I started recording vocals, the lyrics made me cry. By that point the song was over a year old and I thought those wounds had healed but I guess it hurt to admit I'd been letting go of something while still trying to hold on." The song's accompanying video, shot throughout Brooklyn, was directed by Haoyan of America.
LISTEN TO/WATCH "LIGHTS LIGHT UP" NOW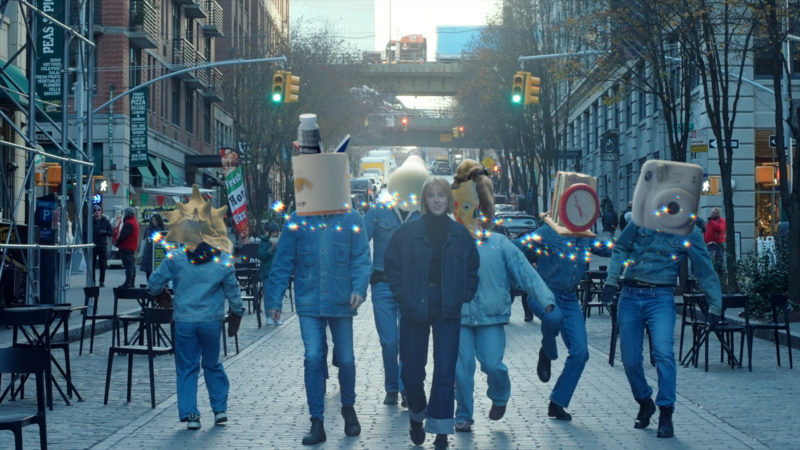 Though its creation took place amid personal and global turmoil, the ruminative yet candid Big Picture is Fenne's most cohesive, resolute work to date, both lyrically and sonically. "This isn't a sad album — it's about as uplifting as my way of doing things will allow," she says. "These songs explore worry and doubt and letting go, but those themes are framed brightly." With confidence and quiet strength, each track provides insight into Fenne's ever-changing view of love and, ultimately, its redefinition — love as a process, not something to be lost and found.
Notably, these 10 songs are Fenne's first and only to have been written over the course of a relationship; 2018's On Hold and 2020's BREACH both confront the pain of retrospection, saying goodbye to a love that's gone.  Big Picture does the exact opposite — rooted firmly in the present, it traces the narrative of two people trying their hardest not to implode, together.
After writing Big Picture in the solitude of her Bristol flat, Fenne consciously aimed to make the recording process her most collaborative thus far. Co-producing with Brad Cook (Waxahatchee, Kevin Morby, Snail Mail) at his Durham studio, Fenne's core intention was to make something that sonically reflected the kind of compact space the songs were written in; something warm, honest and comforting. Alongside Fenne's touring band, the album features Christian Lee Hutson (guitar), Katy Kirby (vocals), and was mixed by Melina Duterte of Jay Som.
Big Picture's cover art, constructed on a miniature scale by the artist Thomas Doyle, shows the collapse of a home confined within a bell jar and features several inch-high models of Fenne in various places throughout. This physical representation of a self-contained disaster is a reminder that we are small in the grand scheme of things which, for Fenne, is a relief: "We only really know the one world we find ourselves in at any given time" Fenne expands. "It's only when that world changes or collapses that we realize there are other narratives available — that we've known only one of many possible ways to exist."
PRE-SAVE/PRE-ORDER BIG PICTURE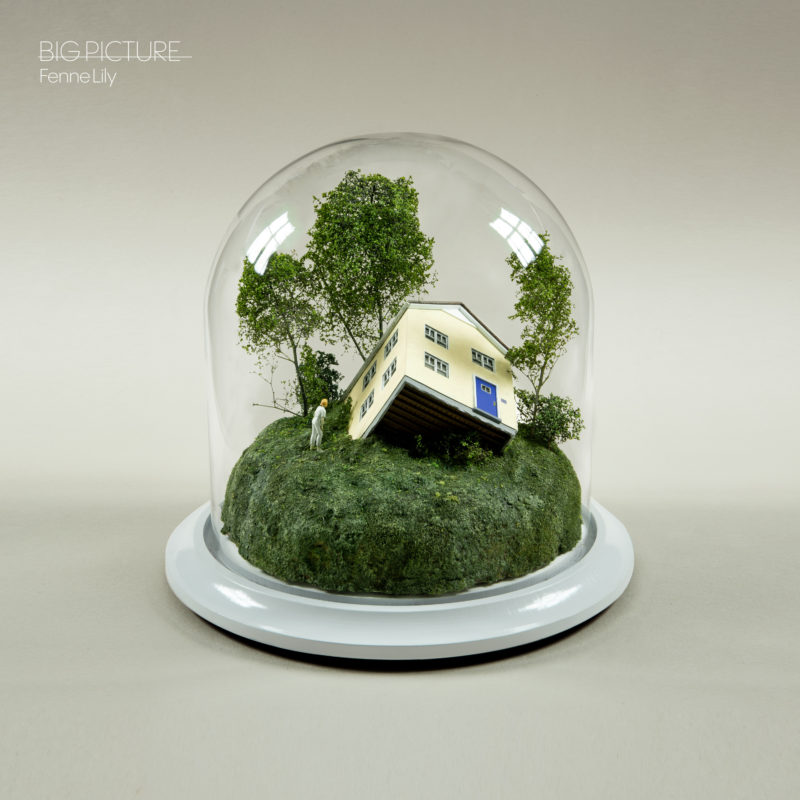 Fenne Lily Tour Dates:
Sat. Apr. 15 – Leeds, UK @ Brudenell Social Club
Sun. Apr. 16 – Dublin, IE @ Workman's Club
Tue. Apr. 18 – Glasgow, UK @ St Luke's
Wed. Apr. 19 – Manchester, UK @ YES
Thu. Apr. 20 – London, UK @ Islington Assembly Hall
Fri. Apr. 21 – Bristol, UK @ Trinity
Sun. Apr. 23 – Brighton, UK @ Patterns
Mon. Apr. 24 – Brussels, BE @ AB Club
Tue. Apr. 25 – Amsterdam, NL @ Bitterzoet
Thu. Apr. 27 – Hamburg, DE @ Nochtspeicher
Fri. Apr. 28 – Copenhagen, DK @ VEGA Ideal Bar
Sat. Apr. 29 – Berlin, DE @ Frannz
Mon. May 1 – Munich, DE @ Ampere
Tue. May 2 – Cologne, DE @ Stadtgarten
Wed. May 3 – Paris, FR @ FMR
Thu. May 11 – Santa Ana, CA @ Constellation Room *
Fri. May 12 – Felton, CA @ Felton Music Hall *
Sat. May 13 – San Francisco, CA @ Great American Music Hall *
Mon. May 15 – Seattle, WA @ Neumos *
Tue. May 16 – Portland, Oregon @ Aladdin Theater *
Wed. May 17 – Vancouver, BC @ Hollywood Theatre *
Fri. May 19 – Salt Lake City, UT @ Kilby Court *
Sat. May 20 – Denver, CO @ Bluebird Theater *
Mon. May 22 – Lawrence, KS @ The Bottleneck *
Tue. May 23 – Minneapolis, MN @ Fine Line *
Wed. May 24- Milwaukee, WI @ Back Room at Colectivo Coffee *
Thu. May 25 – Chicago, IL @ Thalia Hall *
Fri. May 26 – Kalamazoo, MI @ Bell's Eccentric Cafe *
Sat. May 27 – Toronto, ON @ The Legendary Horseshoe Tavern *
Tue. May 30 – Portsmouth, NH @ 3S Artspace *
Wed. May 31 – Cambridge, MA @ The Sinclair *
Fri. Jun. 2 – Brooklyn, NY @ Music Hall of Williamsburg *
Sat. Jun. 3 – Philadelphia, PA @ Union Transfer *
Sun. Jun. 4 – Washington, DC @ Black Cat *
Mon. Jun. 5 – Durham, NC @ Motorco Music Hall *
Tue. Jun. 6 – Atlanta, GA @ Terminal West *
Wed. Jun. 7 – Nashville, TN @ The Basement East *
Fri. Jun. 9 – Fayetteville, AR @ George's Majestic Lounge *
Sat. Jun. 10 – Fort Worth, TX @ Tulips *
Sun. Jun. 11 – Austin, TX @ The Parish *
Tue. Jun. 13 – Santa Fe, NM @ Meow Wolf *
Thu. Jun. 15 – Phoenix, AZ @ Rebel Lounge *
Fri. Jun. 16 – West Hollywood, CA @ Troubadour *
* = co-headline with Christian Lee Hutson