Acclaimed Los Angeles-based trio MUNA have signed with Saddest Factory Records. The Los Angeles-based band, comprised of Katie Gavin, Naomi McPherson, and Josette Maskin, is the second act to sign to Phoebe Bridgers' label.  
About the singing MUNA said, "Phoebe asked us to be in a four person couple with her. We said, "Sadly, we are all taken but we will happily sign to your record label for the small fee of 10 million dollars." After much negotiation, she obliged. We look forward to this lifelong partnership and Phoebe raising our first born children, as was included in the contract. This will be the last time we speak publicly as we will be giving her our voices in a cursed golden locket (with the exception of our bi-monthly contribution to the Podcast Industrial Complex). And maybe some music." Phoebe in response stated, "I thought they were a boy band."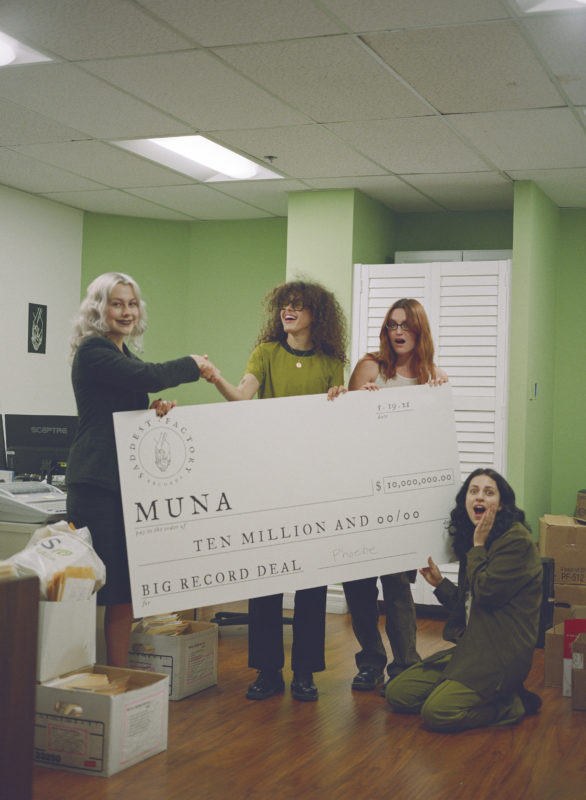 MUNA's Upcoming Festival Dates:
Sep 3-5 Napa Valley, CA @ Bottle Rock Festival
Sep 25 New York City, NY @ Governor's Ball 
MUNA released their debut album About U in 2017 to mass critical acclaim from the likes of the Los Angeles Times, W Magazine, V Magazine, The FADER, SPIN, and many more. The album also made a number of Year-End 'Best Of' lists, including NPR's "100 Best Songs of 2017" which noted, "the band created a musical safe space and an anthem for otherness, letting its joy speak as loudly as its defiance," and Billboard's "50 Best Albums of 2017: Critics Pick", which called the album "spellbinding". The album also landed them the coveted support slot on Harry Styles' first solo tour. Their sophomore album, Saves The World (September 2019) also received rave reviews with Rolling Stone giving the album 4 stars and lauding their "mastery of pop songcraft". Pitchfork praised it's "pristine pop" and Forbes called the album "superb." That album's first single, "Number One Fan", led Vulture to declare that "2019 is about to be theirs." The band wrapped the year with their sold-out "Saves The World" tour and count Lollapalooza, Osheaga, Outside Lands, ACL and Life Is Beautiful as some of the festivals they have played to date. 
MUNA are the second signing to Saddest Factory Records, the newly launched imprint from Phoebe Bridgers in partnership with Secretly Group's Dead Oceans. The label's debut album, Claud's Super Monster, was released to international acclaim in February. 
Find Saddest Factory Records Online