Today, JJ Shurbet, who records as Scruffpuppie, has announced their debut album letters to nobody, out January 28th, 2022 via Saddest Factory Records. Along with the album news, the 20-year old has also released a new track from the album, "wondering how" and revealed some live shows for February 2022 – all dates below. 
About the new song JJ says,"'wondering how' has a combination of both elements from all of the songs on this record, switching from being soft and pretty, like "paint," and then going towards more of a rock ballad, like "assignment song." This song talks a lot about the aftermath of my addiction, and the awe-like state that getting clean put me in. How did I get this far? A year ago I was nodding off sitting at my guitar trying to tune it correctly, and now I'm in Los Angeles recording some of the most amazing art I've ever created. "wondering how" is a perfect example of the hope I have begun to incorporate in my writing."
"wondering how" follows the first two singles, "assignment song" and "paint", released earlier this year. Full album tracklist is below.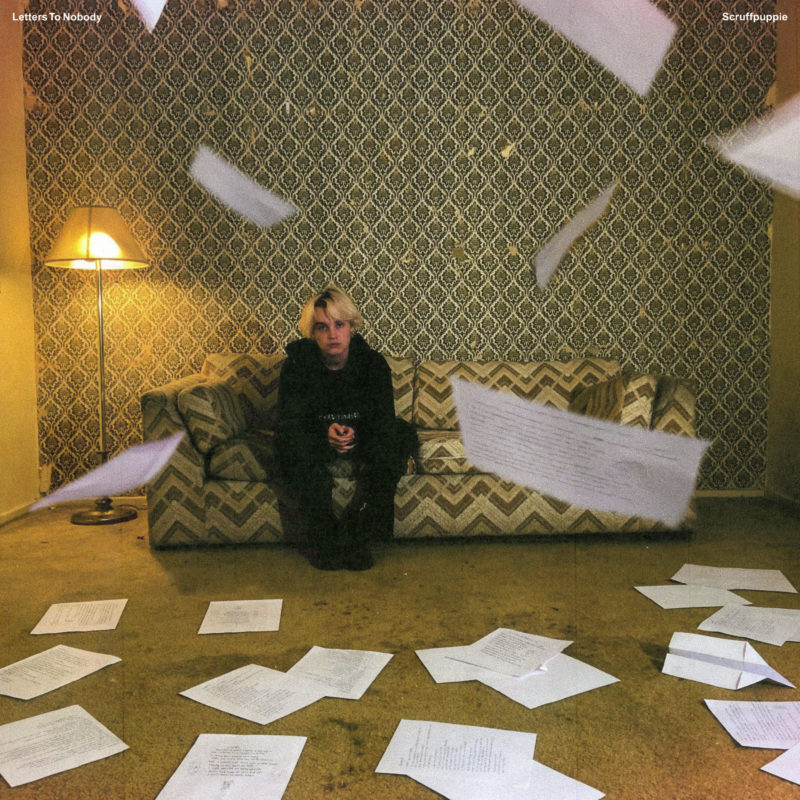 letters to nobody starts at the end. JJ Shurbet's debut studio album as Scruffpuppie – and first for Phoebe Bridgers' Saddest Factory Records –  is an album of reclamation, recreation, redefinition, resurgence, rebirth, rehab, total revitalization – but something's gotta give in order to get to all those re– words. "I don't have time to just give up," JJ sings on "the morning where I woke and rode again", letters to nobody's kaleidoscopic, dreamlike opener. "I went back so many steps." It's a song about a breaking point in JJ's life: the day that, after years of drug abuse, she woke up and realised something in her life needed to change. "I came to my parents, crying, just confused why I couldn't stop [using], because people had asked me to," she recalls. Her life, at that point, was caught between so many worlds — bound up by addiction, on the cusp of some kind of underground fame – and one was threatening to consume the other whole. "I was just tired at that point: of destroying myself and my relationships with people I cared about." 
So begins letters to nobody: a record of determination and self-determination, of hard-won confidence and contrition, of clarified spirit and abundant mind. Drawing from midwest emo as much as it does Elliott Smith, classic indie, and hyperpop, the album, produced by longtime Phoebe Bridgers collaborator Marshall Vore, establishes JJ as a unique songwriter with agnosticism towards genre but total devotion to pop songcraft – a musical polymath whose only guiding light is her own truth. "Life's pain and art," goes a line on the record's exhausted, clear-eyed closer "sometimes", "So I try to relate to everything I can possibly hold onto." Accordingly, letters to nobody is something to hold onto: a cropped, high-detail portrait of a turbulent adolescence, to be sure, but also a lifeline – a buoy in high water and a much-needed icon of brightness.  
letters to nobody Tracklist:
the morning where i woke and rode again (intro)

assignment song 

october 14 

wondering how 

feel better (ft. stagehoax)

the distance 

we miss you even though you're here

paint 

a lesson from the moon 

silly ideologies 

lost and found 

carelessness 

sometimes (ft. Phoebe Bridgers)
Scruffpuppie will also be playing a handful of shows early next year in celebration of the album's release. Dates below, tickets on-sale at 10AM local November 19. 
TOUR DATES:
Feb. 20 (Sun.) Rickshaw Stop San Francisco, CA
Feb. 22 (Tues.) The Echo Los Angeles, CA
Feb. 25 (Fri.) Hard Luck Bar Toronto, ON
Feb. 27 (Sun.) The Sultan Room Brooklyn, NY
Feb. 28 (Mon.) Schuba's Tavern Chicago, IL