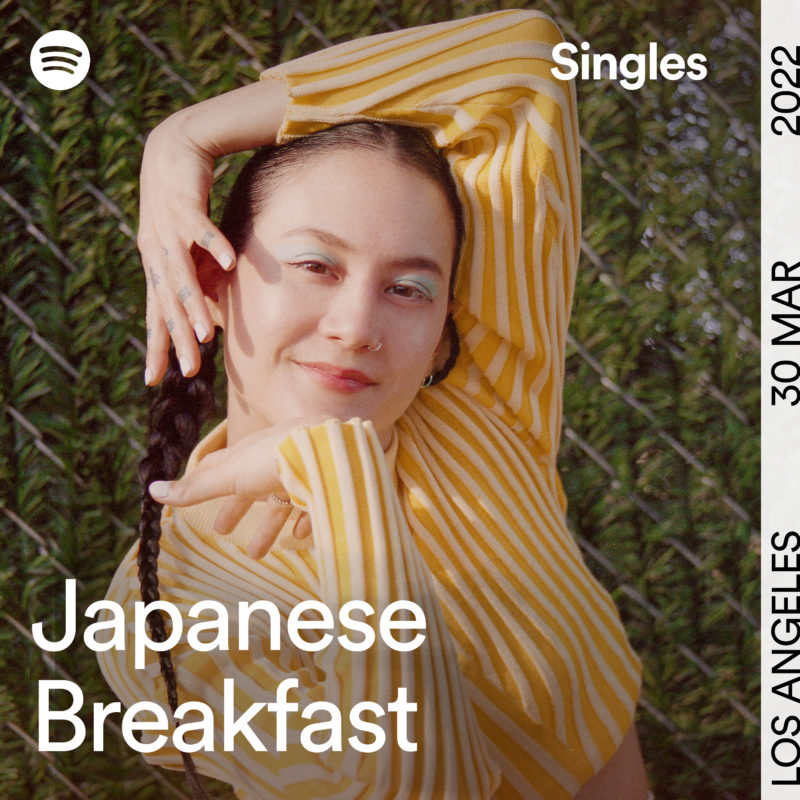 LISTEN TO JAPANESE BREAKFAST'S SPOTIFY SINGLES
With the GRAMMYS just days away, Japanese Breakfast is teaming with Spotify for their week of celebrating the emerging talent nominated for the Best New Artist category with its Spotify Singles series featuring exclusive recordings from the BNA-nominated artists. The series features reimaginings of one of each nominee's own hit songs, as well as recording a cover song as a tribute to a past Best New Artist nominee. 
For the series, acclaimed artist and best-selling memoirist, Japanese Breakfast re-recorded their hit "Be Sweet," funking it up with a disco beat and call-and-response vocals, and a cover of their labelmates and 2012 Best New Artist winner Bon Iver's "Skinny Love," giving it a folk-rock spin with orchestral additions.
"We decided to record Bon Iver's 'Skinny Love' because it felt like a very surprising cover for Japanese Breakfast," says Michelle Zauner. "It's so moving and sparse. We felt we could add some interesting instrumentation to the track and celebrate our fellow label mate Bon Iver."
Japanese Breakfast's Jubilee, also nominated for Best Alternative Music Album, is out now.
The band's upcoming tour dates include stops at Coachella, Governors Ball, Bonnaroo, Pitchfork Music Festival, Shaky Knees, Boston Calling, and more. All dates below.
TOUR DATES:
4/5 – Athens, OH @ Ohio University Music Industry Summit
4/16 – Indio, CA @ Coachella Valley Music & Arts Festival
4/23 – Indio, CA @ Coachella Valley Music & Arts Festival
4/30 – Atlanta, GA @ Shaky Knees Festival
5/5 – Pittsburgh, PA @ Roxian Theatre
5/6 – Richmond, VA @ Friday Cheers at Brown's Island
5/7 – Norfolk, VA @ The NorVa
5/14 – Winooski, VT @ Waking Windows Music & Arts Festival
5/15 – Houston, TX @ We Are One Music & Arts Festival
5/28 – North Adams, MA @ Solid Sound Festival
5/29 – Allston, MA @ Boston Calling Music Festival
6/4 – Bloomington, IN @ Granfalloon at Buskirk-Chumley Theater
6/4 – Bloomington, IN @ Granfalloon at Dunn Meadow
6/12 – Queens, NY @ The Governors Ball Music Festival
6/14 – Raleigh, NC @ Red Hat Amphitheater
6/15 – Vienna, VA @ Wolf Trap Filene Center
6/16 – Charlotte, NC @ The Underground
6/17 – Manchester, TN @ Bonnaroo Music & Arts Festival
7/8 – Des Moines, IA @ 80/35 Music Festival
7/16 – Chicago, IL @ Pitchfork Music Festival
7/21 – Portland, ME @ Thompson's Point
8/12-14 – Seattle, WA @ Day In Day Out Festival
8/26 – Stanford, CA @ Here And There at Frost Amphitheater
9/3 – Denver, CO @ Here And There at The Mission Ballroom
10/4 – Vancouver, BC @ Rogers Arena
10/7 – Portland, OR @ Theater of the Clouds