Kansas City, KS based musician Kevin Morby has released his new album, Sundowner, out today on Dead Oceans.  Following 2019's Oh My God, "a secular rock record consumed by religious imagery, a pop art exploration of deep anxiety, and his most interesting work yet" (The FADER), Sundowner is Morby's "attempt to put the Middle American twilight —  its beauty profound, though not always immediate —  into sound."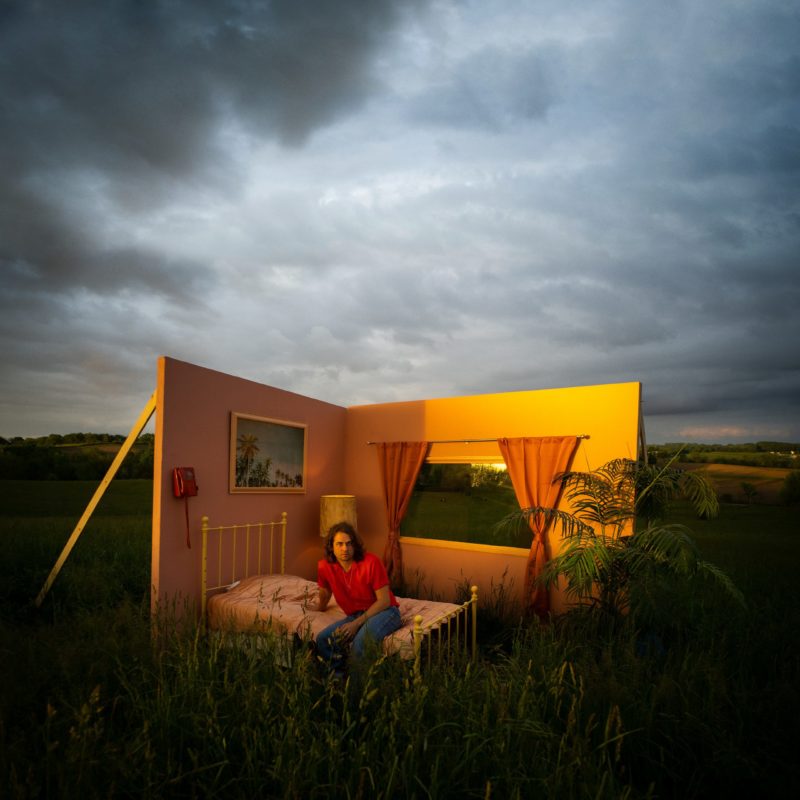 In 2017, Morby moved from Los Angeles back to an empty house in his hometown of Kansas City, KS. Landing back home in Kansas felt jarring juxtaposed with a life full of chaos and adventure with a band on the road. But at the very least, Morby "was happy to have – for the first time in my adulthood – a place to close the door, with no temptations other than to work on music and reflect on what I had built since I left." Not ready to let go of the hand of the California desert, Morby spent the winter decorating the best he knew how; with mementos from his previous home, cactus and aloe vera and covering the walls in pinewood – immediately earning the house its nickname, The Little Los Angeles. 
During that summer, Kevin's isolation was given a subtle lift when Katie Crutchfield began visiting. She would stay weeks at a time, living quietly beside him – their love taking shape in a quiet refuge from their lives on the road. They shared many things, including a mutual melancholy that seemed to appear every night around sunset. They began to refer to themselves as "sundowners."
The collection of new songs that would become Sundowner came together effortlessly as he did his best not to resist or refine the songs, but instead let them take shape all on their own. In his makeshift studio, Morby taught himself basic recording techniques. Because it had no heating or cooling elements, he was subjected to the elements – the warm and abstract summer and the icy Kansan winter. He worked largely on a Four Track Tascam model 424. "I wrote the entire album wearing headphones, hunched over the 424, letting my voice and guitar pass through the machine, getting lost in the warmth of the tape as if another version of myself was living on the inside, singing back at me," says Morby. "I was mesmerized by the magic of the four track not only as a recording device, but also an instrument, and considered it my songwriting partner throughout the whole process."
To record, Morby and producer Brad Cook headed to Texas' Sonic Ranch in January 2019, with the intent of making the record away from any coastline, and in the heart of America. "My end goal was to capture the cadence of what I had found inside the four track but make it three dimensional, and Brad seemed perfect for the job," says Morby. Aside from bass and some keys from Cook, Morby played nearly every instrument on the album – lead guitar,  mellotron, and the album's secret weapon, a slightly out-of-tune pump organ. Later, James Krivchenia joined at the end of the session to fill out the percussion.
Following the recording session at Sonic Ranch, Morby toured for Oh My God, and Sundowner sat inside of a hard drive back at Sonic Ranch. It didn't see the light of day until he found himself, as did the rest of the world, stuck inside their home and in quarantine in March 2020. Brad, Jerry Ordonez (from Sonic Ranch) and Morby worked from their respective homes, sending notes back and forth  to mix the album, and suddenly, just like that, Sundowner was finished. 
Morby further explains the album: "It is a depiction of isolation. Of the past. Of an uncertain future. Of provisions. Of an omen. Of a dead deer. Of an icon. Of a Los Angeles themed hotel in rural Kansas. Of billowing campfires, a mermaid and a highway lined in rabbit fur. It is a depiction of the nervous feeling that comes with the sky's proud announcement that another day will be soon coming to a close as the pink light recedes and the street lamps and house lights suddenly click on."