Today two of the acts boldly leading Texas music into the future have delivered a second chapter of their groundbreaking collaboration, further extending the region's sonic possibilities. Grammy-winning R&B singer/songwriter Leon Bridges, from Ft. Worth, and trailblazing Houston trio Khruangbin have joined for their Texas Moon EP, a follow-up to 2020's acclaimed Texas Sun. While the five new songs are a continuation of the first EP, they also have an identity all their own—  "I think we're redefining how people perceive Texas music—that beautiful marriage of country and R&B—and really paying homage to that," says Bridges. 
The writing is a reflection of their mutual trust and Texan influences, the vast array of artists embedded in the state's DNA — from Beyonce and ZZ Top to Stevie Ray Vaughan and the Geto Boys, or Willie Nelson and Erykah Badu — Khruangbin and Leon, too, expound upon the state's diverse range of sounds, this time with a sharp set of lyrics that touch on love, faith and death while exploring new dimensions of inventive, hypnotic grooves.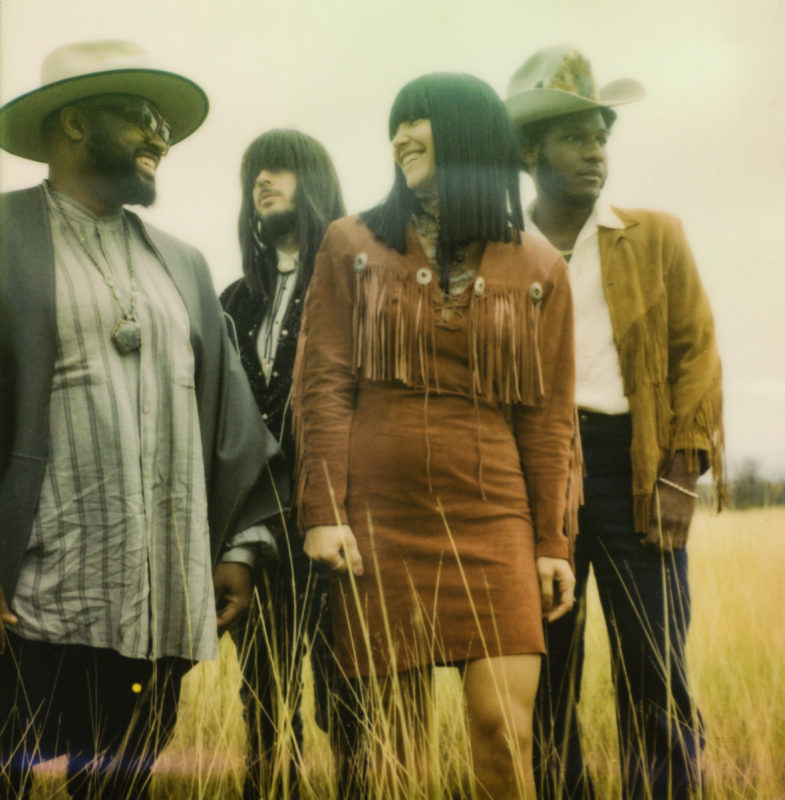 "Doris," a song about Bridges' grandmother passing to the other side, is one of the EP's most intimate moments, fully indicative of Bridges' trust in the band. In their recent NPR Weekend Edition appearance, Khruangbin's Mark Speer says "We have a thing in the studio — nothing is sacred except for the song, right? So it doesn't matter how long you took on whatever part — if it doesn't bring something into the song and make it better, then it's just not staying. And the more space you leave in the music, the more space there is for the spirit to be there." Listen to the full interview HERE.
Elsewhere the pairing embraces Bridges' honeyed vocals with pared-down production, like on the song, "Chocolate Hils" which the FADER says "could easily sit next to Al Green's 'Let's Stay Together,' Barry White's 'Can't Get Enough of Your Love Baby,' and Marvin Gaye's 'Sexual Healing' and "Father, Father" where Bridges pleads with the heavens over a simple rolling guitar lick—"Look at the mess that I made/Just a man with unclean hands"—only to be reminded of God's eternal love.
Lead single "B-Side" frolics across a contemplative nighttime state with congo, bonga and joy. The New York Times says it sounds like a "jam that went on much longer…" and Uproxx says the music is "celestial, otherworldly and incredibly psychedelic." 
Visit their recent cover story on the pairing for more here: 
https://uproxx.com/indie/khruangbin-leon-bridges-interview-cover-story/
Watch the "B-Side" video shot in the J. Lorraine Ghost Town and directed by Philip Andelman starring the artists for the very first time here : https://texassuntexasmoon.com/
Khruangbin and Leon have also hand-selected a cadre of Texan luminaries to curate playlists on TexasSunTexasMoon.com and via the artists Apple Music and Spotify profiles called "The Stars At Night. "Following their own playlists, they've handed the torch to and ethnomusicologist Flash Gordon Parks, visual artist Tierney Malone, Houston nightclub legend Gracie Chavez, and mentor to Khruangbin themselves, DJ Sun, to showcase the music that permeates the nightclubs, sports bars, airwaves and streets of Houston; a survey of the complex fabric that is the Sound of Texas.
This Spring Khruangbin will embark on a run of US tour dates in Miami, Berkeley, Houston, and more with support from Toro Y Moi & Men I Trust. The run will top off the band's extensive European tour (where they will make their headlining debut performance at London's iconic Alexandra Palace and play cities such as Switzerland, Amsterdam, Paris, and more) and the band's debut headlining two-night-run at Radio City Music Hall this March, solidifying Khruangbin's most monumental tour to date. Bridges will also set out on the road in Europe this March with support from Chiiild and play a US headlining stadium tour this fall with shows at the Forum in LA, NYC's Forest Hills and more with support from Little Dragon in support of his two time Grammy-nominated album 'Gold-Diggers' Sound.