Musicians, songwriters and partners Annie Truscott and Melina Duterte announce a new collaborative project today, entitled Routine. The duo will release its lush debut EP, And Other Things, on November 20th via Friends Of / Dead Oceans.  Written and recorded over the course of a month in Joshua Tree during the COVID-19 lockdown, And Other Things finds the couple trying on new roles. Truscott, who plays bass in Chastity Belt, wrote the bulk of the material and sings on the EP, while Duterte, normally a band leader as Jay Som, used the project as an opportunity to, in her words, "take the backseat," as accompanist, producer, and engineer. 
Pre-order And Other Things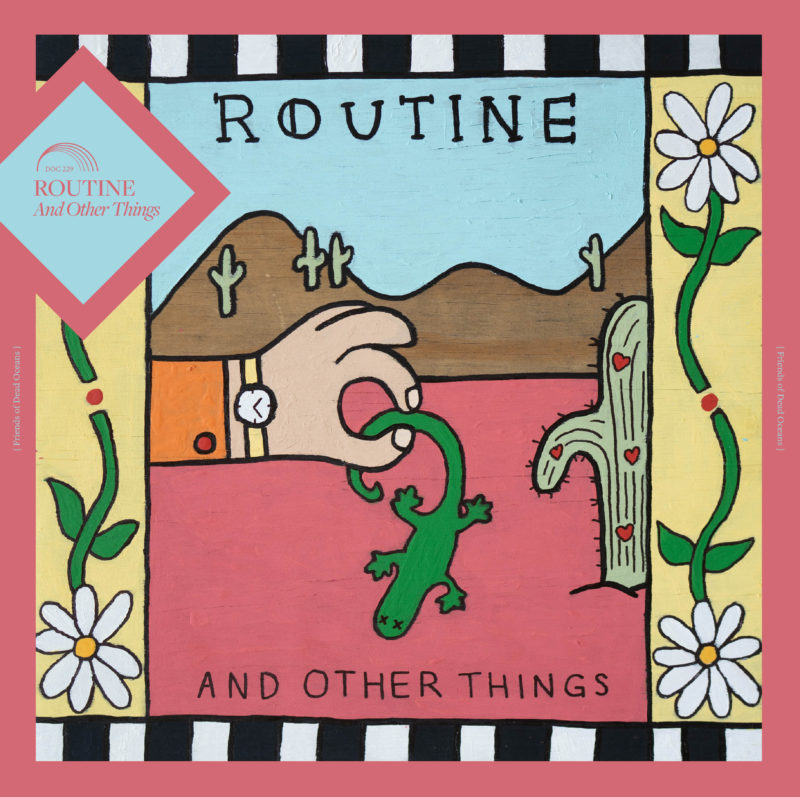 Routine's debut single and the first song of the forthcoming EP is "Cady Road," a contemplative, country-tinged pop song that urges listeners to sit in the discomfort of the present moment. "Relax/ It's fine/ You don't have to know this time," Truscott sings on the chorus, reflecting on the unsuredness that gripped her, and most of us, in those early days of the pandemic. Duterte joins in harmony, giving a song about being alone with your thoughts a collaborative dimension. "In Annie's songs I hear a yearning for something just out of reach, something unachievable," Duterte says. "She's such a great singer, so it felt good to just layer instruments to make her vision for it feel fully fleshed out." That impulse is heard vividly on "Cady Road,"where an abundant arrangement accompanies Truscott, replete with the spry notes of a banjolele.
When the COVID-19 pandemic hit the U.S., Chastity Belt's Annie Truscott descended into a state of mourning. Her plan had been to join her partner, Jay Som's Melina Duterte, as violinist on tour, a privilege rarely afforded since both maintain busy road schedules, and for Truscott, the prospect of spending most of the year in a van wasn't met with exhaustion so much as exhilaration. At long last, she'd be making a living playing music, no side hustle needed. The cancellation of the tour represented a sidelined dream. Routine was born of this disappointment. Like the phoenix rising from the ashes, Truscott and Duterte's collaborative project offers a glimpse of the creative possibilities that can emerge from a state of defeat. 
Duterte describes the making of the EP as "seamless." In the mornings, Truscott sat outside of the cabin in the not-yet-blazing sun and worked out chord progressions on guitar while Duterte slept in. Staring out at the horizon, Truscott could see a smattering of houses and the sharp outline of a mountain range, but overall the property felt remote, far removed from home in Los Angeles. On long walks Truscott admired the recently bloomed spring flowers and pondered the legacy of friendships and experiences that made her. "I spend a lot of my time thinking about the people who've impacted my life," she says. "Routine gave me an opportunity to explore those relationships through music."
A true collaboration requires trust, intimacy, and patience, three elements that cohered almost mystically in the process of making this EP. "Melina is the most calming presence. She's so good at sitting with silences in a conversation and just observing," Truscott says. The quality not only makes Duterte a good partner, but also a good bandmate and producer. 
"I think of And Other Things as a series of vignettes," Truscott says. "We aren't telling one story here, we're telling a series of short stories that people can hopefully relate to." Asked how it feels to offer the EP up to the world during a time of major uncertainty in the music industry, Truscott offers only one word: "Cathartic."