Haley Dahl – who records as Sloppy Jane – has released her new single, "Jesus and Your Living Room Floor" (via Saddest Factory Records). The hauntingly beautiful ballad follows the release of "Party Anthem," both of which will be featured on Dahl's forthcoming album, Madison, set for release on November 5th – watch the official album trailer HERE. The music video, also out today, was filmed inside the Lost World Caverns in West Virginia, the place where Dahl recorded all of Madison, bringing in 21 bandmates from all around the country to make an impressive and ambitious orchestral album recorded deep inside the caves. It's the first time someone has ever recorded an entire album in a cave, and the results are sonically stunning; Madison is an astounding, glorious record of highest order melodrama.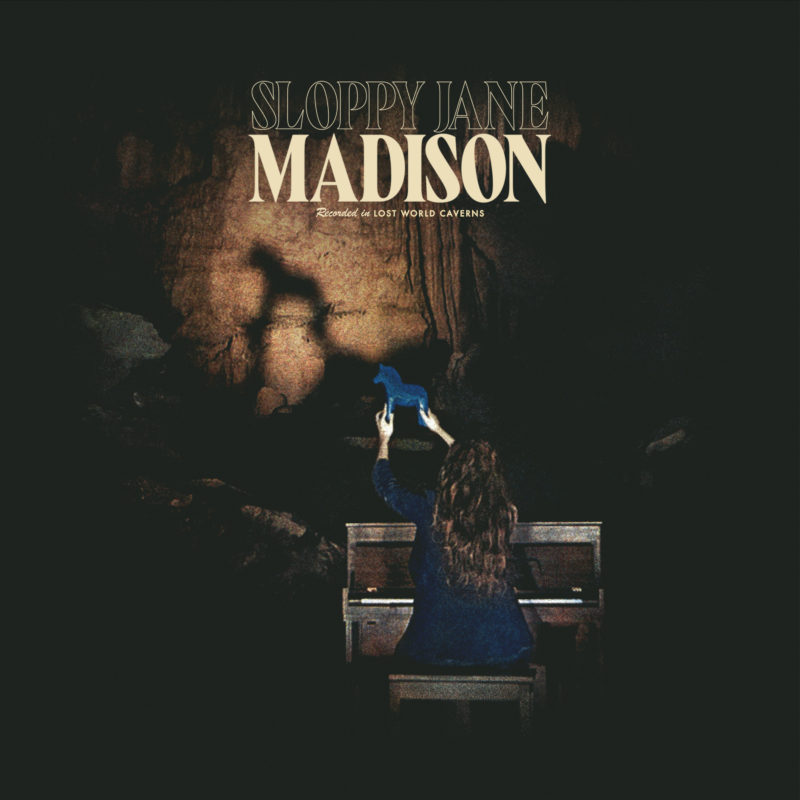 "Jesus and Your Living Room Floor" is the first instance of Dahl drawing on horses to evoke both childhood and also the early stages of love. A symbol of the album, Dahl can be seen holding a blue figurine into the light on the official album cover. On the inspiration behind the song, she stated:
"It's about loneliness, mostly. It's a fantasy about becoming greater in death– someone more interesting than I ever was, more loved than I ever was. It's also about loving somebody so much that everything they touch becomes God; a photograph, a plastic horse, the floor of their living room. It's all pretty toxic, honestly! But that's the best part of writing songs, it's like building an ugly feeling a pretty little house of its own so that it stops living in mine."
Sloppy Jane will celebrate the album release with two headline shows; the first in New York City at Baby's Alright on November 7th and the second in Los Angeles at Pico Union Project on December 3rd. Dahl will also perform at Pitchfork Music Festival Paris in November and open for Iceage in February 2022. All dates below.
For Madison, Dahl spent three years exploring caves that could capture her vision for the album. Her search took her across the USA – obsessing over the different acoustics of each option –  before landing on Lost World Caverns. The result is a beautiful, personal labor of love; a sweeping grand gesture, a powerful statement about obsessive love, and about growing into yourself in the aftermath of a life-changing relationship.
Dahl and her 21 bandmates recorded all of Madison from inside the caves from 3pm to 8:30 am each day over the course of two weeks. To access the space, they'd enter through the back of a gift shop, down a long tunnel where they'd walk down 200 feet of stairs to reach the entrance. Dahl and her bandmates did this steep walk with a piano. The ceiling of Lost World Caverns is massively high and is a perfect dome. The inside was also 98 percent humidity, leading to both stellar sound and also problems with tuning and gear. Engineer Ryan Howe sat in his parents Subaru above the cave with his mixing board and computer, and threaded cables down 90 feet through a hole in the ground to the ceiling of the cave.
The album trailer, out now, provides an inside look at the journey Dahl took over the course of these three years. She shares "One of my closest creative partners, Mika Lungulov-Klotz, did a beautiful job documenting the entire thing. I can't hear or play these songs without viewing an emotional supercut- a highlight reel of being stranded on snowy highways in the middle of nowhere, in an unheated van, with the people I loved most, laughing so hard that we almost couldn't feel how empty our stomachs were. I hope by sharing some of this footage, that other people can hear this in the record too."
This album, so fully realized and diligently executed, is a long time coming for Dahl, who has been performing as Sloppy Jane since she was a teenager. In those days, Sloppy Jane was a three-piece punk band. Its earliest members were Phoebe Bridgers on bass, Sarah Cath on guitar, and Imogen Teasley-Vlautin on drums. Now the band has over a dozen members, and has transformed into a chamber pop project. Dahl also learned so much as a musician: on Madison, she learned how to write for chamber instruments and taught herself the piano. The record is difficult to categorize. It's David Bowie but also when the song "Crying," by Roy Orbison plays at the end of Harmony Korine's Gummo. It's My Chemical Romance meets Sgt. Pepper. Courtney Love and Queen. It's a huge, flowery, velvety thing full of toy horses and stalagmites. It follows one major throughline: a grand gesture so large that it moves the whole Earth.
Sloppy Jane Live Shows:
Nov 7th, 2021 – New York City, NY – Baby's Alright^
Nov 19th, 2021 – Paris, France – Pitchfork Music Festival Paris
Dec 3rd, 2021 – Los Angeles, CA – Pico Union Project^
Feb 12th, 2022 – San Francisco, CA – The Chapel*
Feb 13th, 2022 – Felton, CA – Felton Music Hall*
Feb 17th, 2022 – Los Angeles, CA – Zebulon*
Feb 19th, 2022 – Pioneertown, CA – Venue TBD*
Feb 20th, 2022 – San Diego, CA – The Casbah*
Feb 21st, 2022 – Tucson, AZ – Club Congress*
Feb 24th, 2022 – Houston, TX – The Secret Group*
Feb 25th, 2022 – New Orleans, LA – Gasa Gasa*
Feb 26th, 2022 – Jacksonville, FL – Intuition Ale Works*
Feb 28th, 2022 – Orlando, FL – The Social*
Mar 1st, 2022 – Atlanta, GA – Terminal West*
Mar 2nd, 2022 – Nashville, TN – The Basement East*
Mar 3rd, 2022 – Asheville, NC – The Grey Eagle*
Mar 4th, 2022 – Durham, NC – Motorco Music Hall*
Mar 5th, 2022 – Baltimore, MD – Ottobar*
Mar 7th, 2022 – Cambridge, MA – The Sinclair*
Mar 8th, 2022 – Providence, RI – Columbia Theatre*
Mar 10th, 2022 – New York City, NY – Bowery Ballroom*
Mar 11th, 2022 – Holyoke, MA – Gateway City Arts*
Mar 12th, 2022 – Kingston, NY – Tubby's Kingston*