"Time changes everything." — Khruangbin
Khruangbin, the Houston-based group comprised of bassist Laura Lee Ochoa, guitarist Mark Speer, and drummer Donald "DJ" Johnson, are pleased to announce their new album, Mordechai, out June 26th on Dead Oceans, in association with Night Time Stories. Mordechai comes two years after the release of their beloved and acclaimed breakthrough, 2018's Con Todo El Mundo, and was preceded earlier this year by Texas Sun, the group's collaborative EP with Leon Bridges. Today, they present the vibrant, Felix Heyes & Josh R.R. King-directed video for Mordechai's lead single, "Time (You and I)".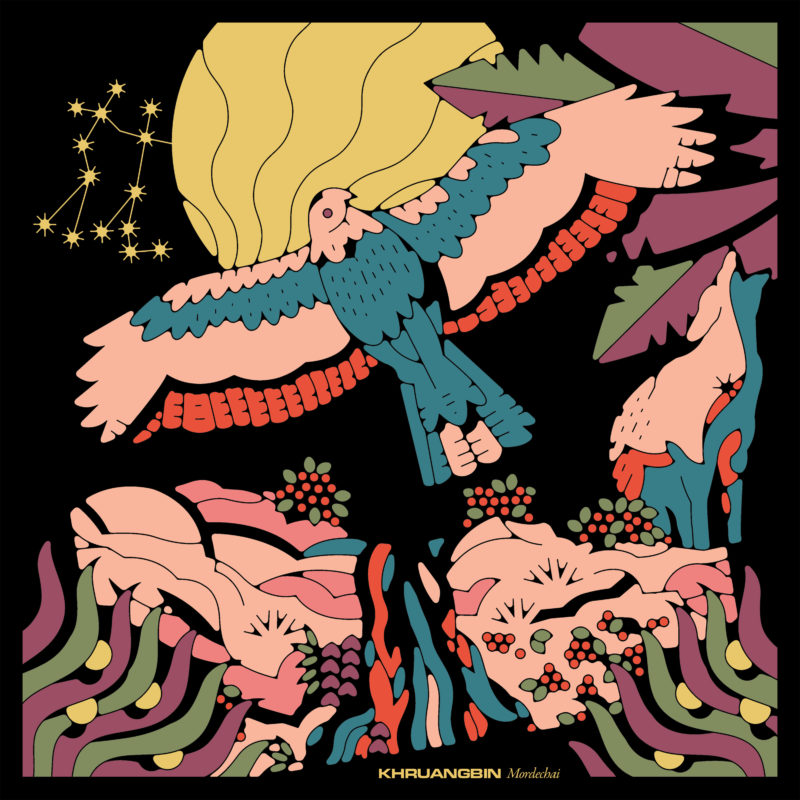 Khruangbin has always been multilingual, weaving far-flung musical languages like East Asian surf-rock, Persian funk, and Jamaican dub into mellifluous harmony. As a first for the mostly instrumental band, Mordechai features vocals prominently on nearly every song. It's a shift that rewards the risk, reorienting Khruangbin's transportive sound toward a new sense of emotional directness, without losing the spirit of nomadic wandering that's always defined it. And it all started with them coming home.
By the summer of 2019, Khruangbin had been on tour for nearly three-and-a-half years, playing to ever-expanding audiences across North and South America, Europe, and southeast Asia in support of both Con Todo El Mundo and their 2015 debut, The Universe Smiles Upon You. They returned to their farmhouse studio in Burton, Texas, ready to begin work on Mordechai. But they were also determined to slow down, to take their time and luxuriate in building something together. 
It's a lesson Lee had recently learned with the help of a new friend, a near-stranger who had reached out when she was feeling particularly unmoored, inviting her to come hiking with his family. That day, as they'd all made their way toward the distant promise of a waterfall, Lee had felt a dawning clarity about the importance of appreciating the journey, rather than rushing headlong toward the next destination.  When they reached the waterfall at last, Lee's friend urged her to jump, a leap she likens to a baptism. As she did, he screamed her name—her full name, the one she'd recently taken from her grandfather. In that instant, Laura Lee Ochoa was reborn. She emerged feeling liberated, grateful for what her friend had shown her. His name was Mordechai.
Ochoa's rejuvenation found its expression in words—hundreds of pages' worth, which she'd filled over a self-imposed day of silence. As Khruangbin began putting together the songs that would make up Mordechai, discovering in them spaces it seemed like only vocals could fill, they turned to those notebooks. Khruangbin had experimented with lyrics before, but this time Ochoa had found she had something to say. Letting those words ring out gave Khruangbin's cavernous music a new thematic depth.
Chief among those themes is memory—holding onto it, letting it go, naming it before it disappears. The sun-dappled disco of lead single "Time (You And I)" evinces the feeling of a festival winding down to its final blowout hours. Its accompanying video features comedian Stephen K. Amos and Lunda Anele-Skosana. The duo wander around London, placing singular sandcastles throughout the city's various scenery.
Musically, the band's ever-restless ear saw them pulling reference points from Pakistan, Korea, and West Africa, incorporating strains of Indian chanting boxes and Congolese syncopated guitar. But more than anything, Mordechai became a celebration of Houston, the eclectic city that had nurtured them, and a cultural nexus where you can check out country and zydeco, trap rap, or avant-garde opera on any given night. It is a snapshot taken along a larger journey—a moment all the more beautiful for its impermanence. And it's a memory to revisit again and again, speaking to us now more clearly than ever.
Mordechai Tracklist:
First Class

Time (You and I)

Connaissais de Face

Father Bird, Mother Bird

If There is No Question

Pelota

One to Remember

Dearest Alfred

So We Won't Forget

Shida